Organizational Chart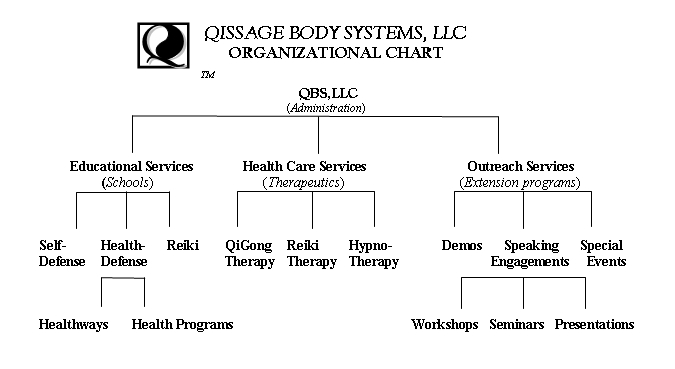 Organizational Structure
QiSsage Body Systems, LLC - The parent organization is responsible for the direction, administration and governing operations of all departments under the organization umbrella.
Educational Services - This department creates, develops, implements and oversees the operations of the following schools: Three Mountains School of Taiji Quan, Three Mountains Healthways School, Three Mountains Health Programs and The Usui System of Natural Healing School of Reiki.
Health Care Services - This department, Health & Wellness Unlimited, provides the following health care options to the community: QiGong Therapy, Reiki Therapy and Hypnotherapy.
Outreach Services - This department initiates, coordinates and implements public and community outreach efforts, to include but not limited to, demonstrations, workshops, seminars, presentations and special events on a local, regional, national or international basis. We specialize in motivational speaking presentations and programs.
---
If you have any questions or would like more information, please e-mail QBS and we will be happy to respond.
[Back to top]